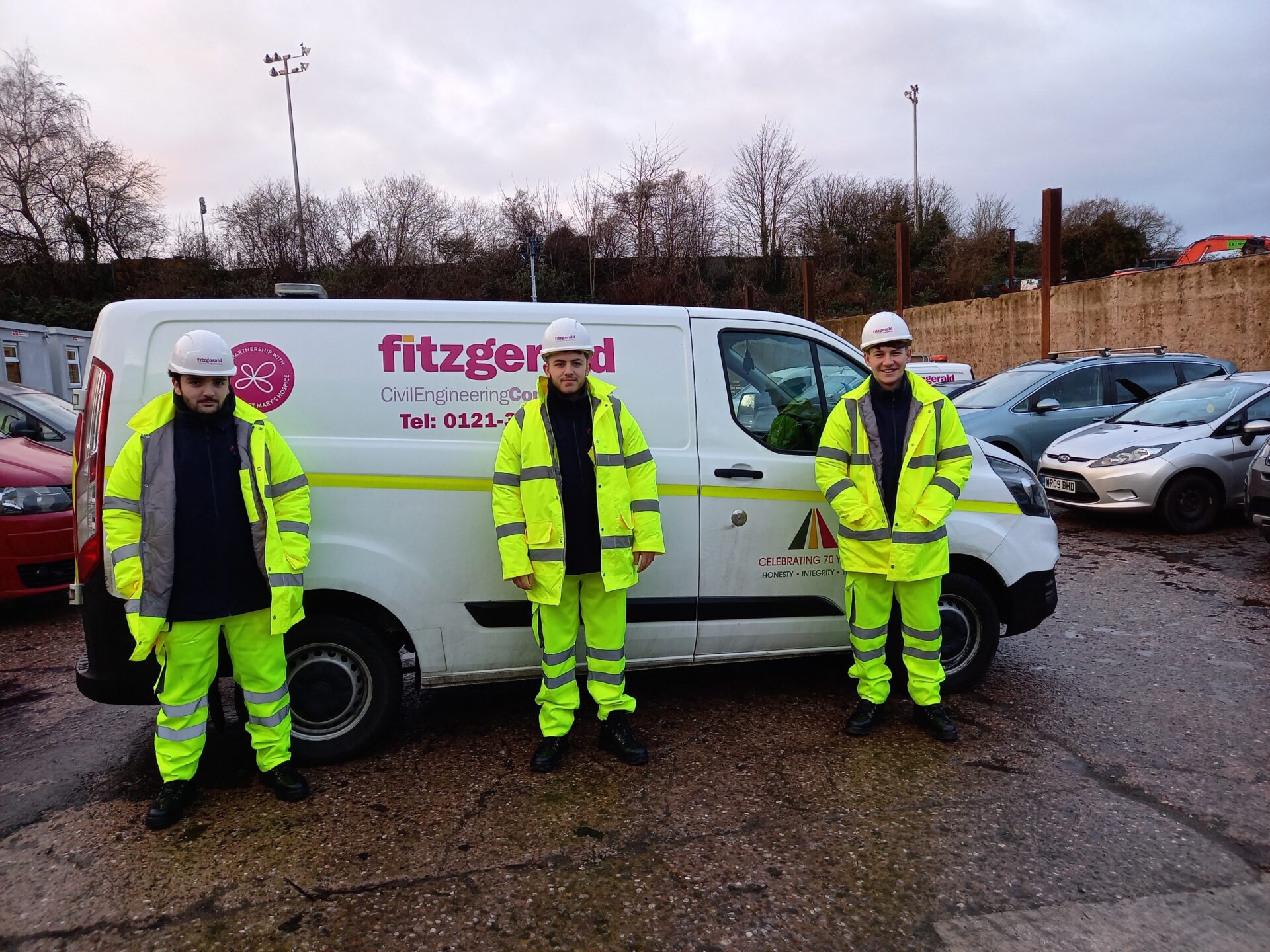 Careers
Fitzgerald are one of the UK's leading employee-owned civil engineering contractors and believe that our people are the heartbeat of our business and to making it a continuing success.
We've listened to our employees as well as many within the construction sector, and recognise that the workplace is an incredibly important part of a rewarding and satisfying career. We are seeking people who truly want to make a difference, develop their skills and be empowered to realise their potential. In return, we provide excellent rates of pay and benefits, as well as providing an opportunity to be involved in many interesting and local and nationally important construction projects.
Fitzgerald are creating a business where everyone is welcomed, included and connected, where we operate an inclusive and diverse company that seeks to attract and more accurately reflects the diverse communities we serve, being represented by men, women, BAME, disability and LGBTQ.
Vacancies
This website will help you to understand more about how Fitzgerald operates, our culture and what's important to us. So if you are interested in joining a dynamic and exciting team, please get in touch.
Due to our continued growth within the civil engineering sector we fully encourage speculative CV's. Please email your CV to recruitment@fitzgerald-uk.com
2023 Apprenticeship Programme
Through our structured Apprenticeship programme we are proud of the long-term rewarding careers that result from attracting bright young talent to the construction industry. Fitzgerald have been investing in training and skills for over 40 years and have developed, supported and employed over 100 Apprentices across our business.
We are currently working with colleges and private training providers to ensure that we run a market-leading Apprenticeship Programme to deliver the right training and qualifications for our Apprentices. We have also made sure that we create a nurturing environment so that our mentoring provides encouragement and support to help each of them reach their potential.
Real-life Examples of Successful Apprenticeships
Engineer Apprentice
Steve joined us in 2011 as on operative with an NVQ level 2 and he approached his line manager with a desire to progress within the company and was placed on a setting out course and worked as a chain boy. He completed his HND in Civil Engineering at South Birmingham College and was appointed as Engineer at Fitzgerald after successfully completing his course.
Quantity Surveyor Apprentice
Jack successfully completed his BSc Quantity Surveying degree in 2019 from University of Wolverhampton – an excellent achievement having joined the business as a Trainee in 2013. Since then he has held the role of Quantity Surveyor on a number of significant civil engineering schemes for Fitzgerald.
Example of Current Apprenticeships
In 2021 we welcomed a new cohort of Apprentices to the company, Taylor, Dan and Tom, who are Birmingham-based school leavers joined our A45 Sprint highways scheme to gain invaluable site-based experience as part of their Level 2 Groundworker Apprenticeship.
Over the 18-month Apprenticeship Programme Taylor, Dan and Tom are predominantly site based with one day per week for college studies. Each Apprentice is being fully supported and mentored by our Training partner Salutem as well as our site management and head office team, and we are pleased to report that in June 2021 all three passed their probationary period.